The Benefits of Lactic Acid for Your Skin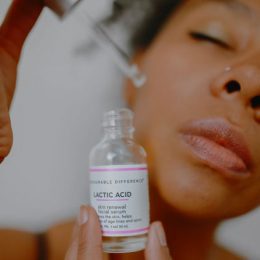 If you are looking for a way to give your skin an extra boost, then look no further than lactic acid! This powerful ingredient is gaining more recognition as a powerful skin care treatment and has many benefits that will help keep your skin looking and feeling its best. From helping to brighten dull complexions to reducing large pores, the benefits of lactic acid can be seen in clearer, fresher-looking skin. In this blog post, we'll explore these advantages in greater detail and see how you can reap the rewards of this amazing ingredient. So let's dive right in and discover why incorporating lactic acid into your regular routine could be exactly what you're looking for!
How to use lactic acid for clear skin
Lactic acid is an alpha hydroxy acid that can be used to improve the appearance of your skin. It helps to exfoliate, brighten and even out skin tone, and reduce signs of aging like wrinkles, fine lines, and dark spots.
A facial cleanser or scrub is the easiest way to use lactic acid. Look for one that contains between 8-10% lactic acid along with other beneficial ingredients, such as aloe vera or glycerin. Use this twice daily in the morning and evening. First, gently massage it into the face in circular motions for 30 seconds before rinsing off with warm water. If you stick to this routine, you should notice visible results within a couple of weeks.

You can also opt for lactic acid peels or masks for a more intensive treatment. These will usually contain a higher acid concentration (up to 50%) and should be used no more than once per week. Apply the mask or peel evenly across your face, avoiding the delicate areas around your eyes and mouth. Leave it on for 15-20 minutes before rinsing off with warm water.
Whichever method you choose, it is important to remember that lactic acid can make skin photosensitive, which increases your risk of sunburn if exposed to too much sunlight. Always wear good sunscreen when using lactic acid products and limit time spent in direct sunlight. Regular use of lactic acid can help you get clear, healthy skin with a more even complexion.
Get glowing skin with this DIY lactic acid mask
Lactic acid is a great natural exfoliant that helps to remove dead skin cells and impurities, revealing smoother and brighter skin. Here's what you'll need:
1 tablespoon yogurt
2 teaspoons honey
1 teaspoon lemon juice
Mix all ingredients in a small bowl until it forms a paste. Then, apply the mask to your face, avoiding the eye area. Leave on for 10 minutes, then rinse off with warm water. Use this mask once or twice a week for best results! Enjoy your glowing complexion!
This lactic acid mask is incredibly easy to make and perfect for those looking for an inexpensive way to get radiant skin! It's also gentle enough to be used weekly and is a great way to get rid of any dullness or dry patches. So, grab your ingredients and pamper yourself with this natural beauty mask! You're sure to love the results!
You can add other ingredients like oatmeal, avocado, or rose water for even more glowing skin. These additional ingredients will provide hydration and nourishment while helping to reduce inflammation. For an added benefit, try adding essential oils such as chamomile or lavender for their calming effects on the skin. With just a few simple steps, you'll be well on your way to glowing skin in no time!